This week one of our many projects was creating a mounting plate from a customer provided
CAD
file that we imported into our
flowwaterjet.com
which allows us to program a cut path pinpointing a powerful jet of water strong enough to cut the part profile and lightening pockets from
Blanchard Ground
–
A36 HR Steel
.  After completing the waterjet cutting process our
HAAS VF7
was used to finish machine critical dimensions, drill, tap and counter bore from print specs utilizing ingenuity and efficiency to build a quality part at a value to the customer.
Upon completion the part was meticulously inspected and verified against the customer specifications then treated with black oxide and shipped to its destination.
Our website provides a page for requesting a quote and submitting drawings.  Bayside Machine staff is always ready to get the process moving as soon as the information is received.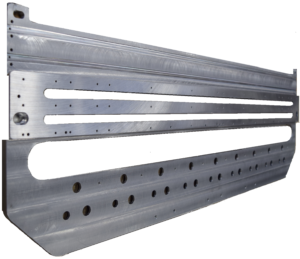 Bayside Machine is a machine shop in De Pere ( Green Bay ), Wisconsin.  Bayside Machine Corporation realizes its success is the result of hard work, dedication, and a commitment to being the best it can be; inside and out.